And they said I couldn't give this crap away! HA!
Stories in the Tilly and Elmer series have now
been downloaded over 10,000 Times!
Wow, I'm RICH! Oh wait - most of them were free - whose stupid idea was THAT?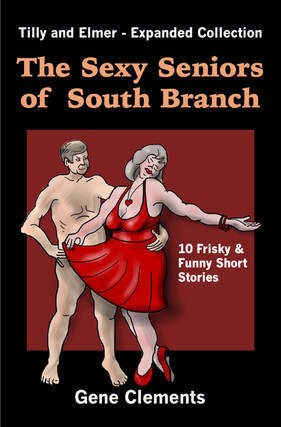 Latest News:
"The Sexy Seniors of South Branch - Collected Stories" has now been updated to "The Sexy Seniors of South Branch - Expanded Collection". I've added the three latest Tilly and Elmer stories to the collection which now includes ten funny and sexy short stories. It's available at all the usual ebook sellers for $3.99.
In this edition, "Tilly and Elmer -in- Decent Exposure", "Tilly and Elmer Snug as Two Bugs", and "Tilly and Elmer Trip Out" have been added to the original seven Tilly and Elmer stories.
---
The Tilly and Elmer Expanded Collection, The Sexy Seniors of South Branch, is now available in paperback!
Get it at Amazon
---
| | |
| --- | --- |
| Tilly and Elmer | These fictional stories chronicle the almost always humorous, and often erotic, adventures of Tilly and Elmer, a Midwestern couple in their late sixties. They've been married for close to fifty years, and would appear to the casual observer to be the definition of an "old married couple". But while they ARE a couple, AND married, they don't consider themselves OLD. In fact, they still feel like teenagers most of the time, although sometimes events remind them that they aren't quite as athletic, skinny, or flexible, as they were five decades ago. No matter. They try to recapture their youth anyway; and when they can't quite recapture it, they at least give it a good chase. Along the way, they have some fun and get themselves into, and usually out of, some humorous situations. What they've lost over the years in body tone, they have gained in expertise, imagination, and good humor. Tilly and Elmer would never want to shock anyone, but what could be more shocking than an erotic story where the protagonists are shocked when they hear others use profanity? Most of the Tilly and Elmer short stories are free at Apple iBooks, Barnes and Noble, Kobo, and Smashwords. The collections are available for a few dollars and the Tilly and Elmer stories are available in Paperback at Amazon and CreateSpace. |
---
•Find out more about the Tilly and Elmer's current adventures and misadventures in the short story collection,
The Sexy Seniors of South Branch.
•Tilly and Elmer reveal the heretofore secret story of their high school romance fifty years ago in
Coming of Age in South Branch
. It's sweet, funny, nostalgic, and a little dirty. Sometimes more than a little!
•For more erotic stories, usually about older adults, check out
Beyond Tilly and Elmer.
---
---
Tilly and Elmer - In Digital or Paperback
The ongoing Tilly and Elmer series, covering their current adventures and misadventures, now consists of 8 short stories. These are available individually in digital format for any computer or e-reader. A collection of the first seven of these stories,
The Sexy Seniors of South Branch
, is available both digitally and in paperback.
A companion book,
Coming of Age in South Branch
, in which Tilly and Elmer recount the days when they were high school sweethearts, is also available in both digital and paperback form.
---
What readers are saying:

• "It's only funny because it's true... Tilly and Elmer are a hoot!"

• "I read it, then I had to share it with my wife, now we are going to read all of them together. Cute book thanks :)"

• "Funny sex story involving the "older" generation! A must read for us 50 something's! Gives me hope!"

• "Great funny fun story. The pictures are super, especially how they work alongside the narrative. "

• "Personal opinion - I would like to see more of this erotica dealing with seniors. As a senior myself, I know that sex does not end at 40. Also this author shows the feelings of the characters, often forgotten or ignored in most erotica today."

• Read Naoko Smith's review of Book 2 in the FlashbackX series, "Falling for a Kiss" on

http://feministerotica.blogspot.co.uk

•"The last story in

Sexy Seniors of South Branch

, 'Tilly's Afternoon Delight', is a masterpiece!"

Written and Illustrated by Gene Clements